Embrace the power of clinical registry patient-level datasets to uncover hidden gems in patient outcomes and therapeutic interventions by clinical phenotype. Clinical registry phenotype datasets are an invaluable resource for monitoring and evaluating how patient clinical profiles impact patient treatment decisions, including the therapeutic journey. Now, you can harness the power of phenotypic data from CorEvitas' renowned syndicated clinical registry data to gain deeper insights and drive evidence-based decision-making.
Bridge the real-world data gap
Depth of Clinical Information
Our datasets are tokenized and linkable to your existing acquired datasets for a complete picture of the therapeutic journey.
Robust Data Quality: Our registries adhere to rigorous data collection and validation standards, ensuring integrity and reliability. Researchers can trust the data's accuracy and completeness, promoting sound analysis and interpretation.
Depth of clinical information: Our regulatory-grade datasets encompass an extensive data collection characterizing patients based on clinical characteristics, including those at disease presentation, clinical subtype, and lifetime exposure of advanced therapies. This depth of information will enable researchers to detect subtle trends and patterns that might otherwise go unnoticed in claims or EHR (Electronic Health Record) based studies.
Exclusive Datapoints: Linkage to the in-house real-world data sources enables a deeper understanding of the patient journey, physician decision-making on choice of therapeutics, and medication adherence and persistence, allowing you to isolate specific factors for exploration.

Our datasets include the following characteristics of patient phenotypes:
The patient journey

Physician decision-making on choice of therapeutics

Medication adherence and persistence

Clinical outcomes
Watch the webinar: Introducing CorEvitas Datasets
Watch as our expert team discusses how our granular patient-level, linkable data pulled directly from our syndicated clinical registries, can enable you to answer questions your current data do not support.
Boasting over 98.5% completeness and information you can't get from claims and EMR, you'll learn how this highly requested data fills your real-world evidence gaps, creates deeper insights, and brings more value to your existing data.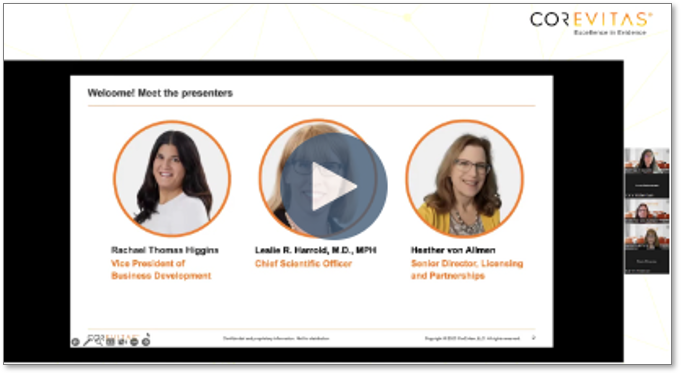 How can we help you?
License datasets direct from our registries. Our gold-standard patient-level data can be leveraged by your teams directly or linked to other acquired datasets, including claims and EMR, to generate deeper clinical insights.
With over 150 epidemiologists, statisticians, and pharmacovigilance experts on staff and 20 years of experience in syndicated longitudinal registries, CorEvitas is expertly placed to provide the scientific guidance that helps you answer even the most complex research questions.